Inside Radio Today
"Cutting Edge!" - Not exactly. "Providing Strategic Advice to Guarantee Success!" - I wish!
"Absolutely brilliant journalism!" - Hah!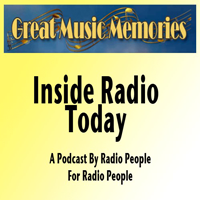 Inside Radio Today may not be the Holy Grail of information on radio today, but it does provide some good answers to some common problems met by today's radio stations. IRT features station owners and operators from a wide variety of backgrounds, experience and even countries, and their answers to some frequently asked questions.
In the spirit of radio, IRT moves along quick at broadcast speed. You will surely find some nugget of information that will help you succeed.
Listen to Inside Radio Today with Bob Francis, available on-demand from  Great Music Memories, and on many of the Great Music Memories affiliates.
If you are a station owner or manager and would like to air Inside Radio Today on your station please use the Air Now button below!